Warning  in labour law - consequences and how to react
Whether it is frequent tardiness, unexcused absence from work or refusal to work - if the employee violates contractual obligations, the employer usually issues a warning. The following article explains what a warning in labour law means for you as an employee and what options you have to take action against it.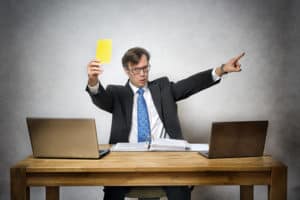 Table of contents
Formal Warning in the Workplace?
A formal warning is when the employer draws the employee's attention to his or her misconduct in breach of the contract and asks him or her to refrain from doing so in the future. At the same time, the employer reserves the right to impose consequences under labour law in the event of a repeated violation.
In summary, the formal warning has the following functions:
Complaint function - The employee must be able to recognise which duties he has violated under the employment contract. To this end, the employer must clearly draw the employee's attention to the duties performed or not performed or the conduct not in accordance with the contract by means of a formal warning.
Reprimand function - The aim of a formal warning is to prevent a recurrence. The employer must therefore draw the employee's attention to his or her contractual obligations and require him or her to comply with them in the future.
Warning or notification function - The employee should also be made aware that a another violation may jeopardise his or her employment. The warning must therefore contain a clear call out that the employee may be subject to contractual consequences (e.g. dismissal) in the event of a repeated violation.
Attention: The warning must specifically mention consequences under the applicable labour law otherwise it would be considered an informal warning instead of a formal warning.
What does an effective formal warning entail?
The formal warning alone does not end the employment relationship. However, if it is effective, it can still have far-reaching consequences. One the one hand, it will be put on record – i.e. noted in your personnel file. This can have a negative effect on the employee's future career and progression. Furtherthe employer can only issue an ordinary dismissal for reasons of conduct, if he has previously warned the employee (§ 314 BGB). In order to speak of an effective formal warning, the following characteristics must be observed and complied with by the employer:
The formal warning can be issued either orally or in written form. The written form is nevertheless recommended to ensure there is evidence on record.. A time limit does not have to be observed either, a warning can be issued about misconduct that occurred a long time ago. It should be noted, however, that the right to issue a formal warning can be "forfeited" if the employer takes too long. This is sometimes assumed to be the case after 6 months. In this case, it is assumed that the employer does not consider the employment relationship to be seriously affected by the misconduct.
The formal warning can be issued not only by the employer but by all employees who are entitled to give work instructions to the employee.
Due to the reprimand function, the employer must ensure that the employee has also taken note of the formal warning – i.e. the employee either receives it via registered post or in person. In the case of foreign employees, a translation may be required.
The warning must contain a detailed description of the facts. The specific place, date and time of the labour law violation must be stated. At the same time, a request to stop the misconduct and an outline of consequences under labour law in case of repetition are necessary.
In addition, the warning must be proportionate. There must be no blatant disproportion between the facts and the warning. Trivial offences, banalities and socially adequate behaviour (e.g. short conversations with colleagues) therefore do not generally justify a formal warning.
Example - effective warning:
"Dear Ms X,
Due to your recent behaviour, we feel compelled to issue a formal warning to reminding you about the proper fulfilment of your duties under your employment contract.
On Monday 3.1.2022, you did not show up at your workplace - the Bakery XY without reason or prior notification, although you were assigned the shift from 9:00 am - 12:00 pm. This constitutes a breach of your employment contract obligations.
We hereby issue you this formal warning and ask that you comply with your contractual obligations in the future.
Should there be repeated absences from work without reason or prior notification, we reserve the right to impose consequences under labour law.
A copy of this formal warning will be attached to your personnel file and kept on record."
Example - ineffective warning:
"Dear Ms X,
Recently you have often failed to turn up for your shift at the bakery XY without any reason.
We hereby give you a warning.
A copy of this warning will be attached to your personnel file."
Let us check whether your warning is effective! You do not have to accept a wrongly issued warning.
What are the grounds for a formal warning?
Possible reasons for a formal warning are e.g.
drinking alcoholic beverages during work/work hours if the company specifically bans this or if it is specifically called out in your contract or company policies (e.g. pilots)
unexcused absence from work
refusal to work or failure to comply with an employer's instruction regarding work or duties
insulting or bullying the employer or colleagues
criminal offences
unauthorised or undisclosed other employment
unauthorised use of the company equipment for private purposes
When is a formal warning unnecessary?
There are exceptional cases in which dismissal is possible even without a prior formal warning.
This is the case if it cannot be reasonably expected that the employee will change his or her behaviour in the future despite a warning or if the employee continues his or her misconduct without understanding.
The same applies if the trust relationship between employer and employee is impacted beyond repair.. This is the case if there has been particularly gross misconduct which the employee could have recognised (e.g. theft, physical/sexual assault or disclosure of company secrets).
How long is a formal warning effective?
In principle, there is no time limit of effect for a formal warning. Rather, the period of effect is determined by the type and severity of the violation or misconduct. As a rule of thumb, a period of two years is assumed.
The warning can also lose its effect if the employee behaves for a longer period of time in compliance with his or her duties and work contract. This always depends on the individual case. A new warning is necessary if the employer wants to terminate the employment contract after a long period of time because of similar misconduct.
Example:
Mr X conducted private phone calls during working hours in 2010, which he was not allowed to do according to his employment contract. He is given a formal warning. In the next ten years there is no similar violation until the employer cought him making a private phone call again. Now his employer wants to dismiss him with reference to the warning from 2010.
Here, a new warning is necessary before termination can take place.
If numerous warnings are issued without consequences for the same misconduct, the seriousness can be doubted. Even in the case of such "empty" threats, a new formal warning may be necessary before termination can be considered.
What can the employee do after receiving a formal warning?
If you think you have been given an unjustified formal warning, there are several ways to defend yourself.
Talk to your employer and the works council
First of all, it is advisable to talk to your employer in order to find an amicable solution. You can also inform the works council and lodge a complaint (section 85 I BetrVG). The works council can act as a "mediator" so that in the best case the formal warning is withdrawn or you are only admonished.
Counterstatement
Every employee is entitled to request access to his or her personnel file (section 83 I BetrVG). In addition, every employee is entitled to have a counterstatement written by him or her included in the personnel file (section 83 II BetrVG). This applies even if the formal warning is justified. This is particularly important as evidence in a dismissal protection case.
Removal from the personnel file
In addition, as an employee you have a right to have the formal warning removed from your personnel file if it is unjustified. This would be the case if
the warning is vague in content.
it contains incorrect factual allegations.
the employer has assessed your conduct in a legally incorrect way.
the principle of proportionality has been violated.
despite a lawful warning, the employer has no interest worthy of protection in keeping the warning in the personnel file.
You can assert your right in court. Are you of the opinion that you have not violated any duty or that your employer has no evidence against you? Rely on our legal expertise and tell us your side of the story. We can assess what your chances are and assert your rights!
We will advise you on the most sensible way to proceed against a warning. Please feel free to schedule an appointment at 089 / 21 55 2286 or info@kern-peters.de.
Conclusion - a warning must be properly issued
A formal warning is a "notification" issued by the employer to draw the employee's attention to his or her specific misconduct and to remind him or her of his or her contractual obligations.
It must be stated or written clearly and in detail and contain a formal warning that in the event of a further violation, consequences under labour law are to be expected.
If the employer wishes to terminate the employment contract for reasons of conduct, he must first issue a formal warning. Exceptions are possible if the relationship of trust has been broken beyond repair.
There are no time limits for issuing a formal warning. However, the right to issue a warning can be forfeited if the employer waits too long.
Employees can take action against the warning by means of a counterstatement, a complaint to the work council or a lawsuit.